Creating a Scientific Profile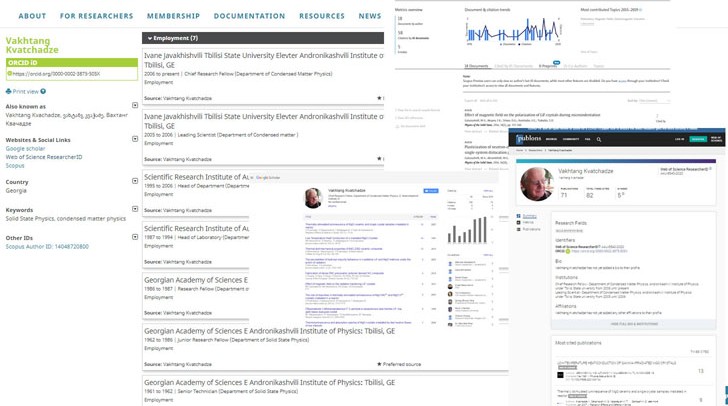 Our main services are special for scientists or organizations to establish themselves in the scientific space, In particular, our services are:
Creating an Individual Scientific Profile in the Internet space, where will be posted all scientific products created by scientists in the early period, both existing electronic and printed materials, which electronic versions does not exist yet. Publishing them publicly is one of the best method to improve your Citation Index. 
Having an individual Scientific Profile on the Internet makes it easier for you to take part in the International Projects and find collaborators. Also have communication at the local and International level
System for uploading individual, Doctoral, Master theses, articles, monographs. The published material will be searched and cited by Google Search Engine in several days:
https://monographs.4science.ge/index.php/SS
 System for Creating E-Journals: Unfortunately, the full PDF of many articles are published on the Internet in Georgia, which of course can not be considered as an electronic journal. It is also possible to create an electronic version of existing print version, as it happened in the scientific Papers, which is indicated on the link. These articles have already been posted on Google Scholar in a few days, which gives you chance for the additional Citation.
Popularization of created Journal. Journal with a high rating will be published in the databases of well-known publishers. Such E-Journal created with this system has already been published in Scopus.
Calculation of Scientific Productivity (Counting Citation);
Getting Scientific Literature:
Searching by Scientific Subject and Delivery of them: Elsevier, Springer, Wiley, Taylor&Francis Online and so on.E-books, articles, patents of publishing houses;
Creating E-books or edit existing them; Converting printed versions to electronic format and their posting on the Internet;
Processing and analyzing statistical data;
Group and Individual Trainings, Presentations and Consultations
Below mentioned link will make it easier to find Scientific Literature. Unlike the Google Search Engine it contains only publishing organizations of Scientific Literature:
https://cse.google.com/cse/publicurl?cx=008873880562672603275:q2xhkriyxmw
Please, offer us interesting and necessary services you would like to establish.